World Oral Health Day 2022 | Know your theme : Your mouth is a mirror to your body and reflects your general health and well-being. Avoid risk factors, adopt good oral hygiene habits and have regular dental check-ups to help protect your mouth and body. A healthy mouth and a healthy body go hand in hand. Maintaining a healthy mouth is crucial to keeping it functioning correctly and for maintaining overall health and quality of life. Think Health' empowers you to keep a healthy mouth and helps you maintain your general health and well-being.
.It's that time of the year: FDI is Proud to announce that the World Oral Health Day campaign is ready to kick-off and encourages all of you to get involved.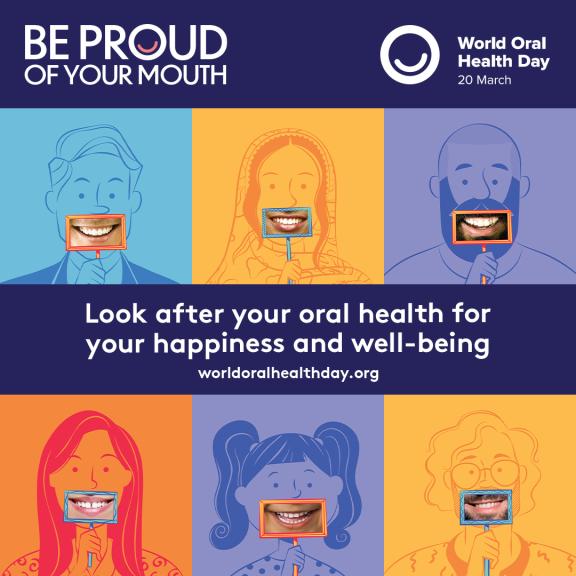 On World Oral Health Day 2022, we are asking everyone to take meaningful action to help end the neglect of global oral health.
This year, help us spread the word to encourage as many people as possible to look after their mouth and protect their quality of life. Because an unhealthy mouth not only impacts general health but it can have a severe impact on people's emotional, social, mental, and overall physical well-being; and that's why we are calling on people to Be Proud of their Mouth for their happiness and well-being.
There's five months left until March 2022, but plenty of activities that oral healthcare professionals, students, schools, youth groups and people of all ages can start planning to engage local communities. Let's come together on a global scale to raise awareness, improve education and spur personal and collective action on the importance of oral health!
bachelor jobs bph jobs health health for all health guidelines new health jobs healthjobs healthjobs in nepal health jobs vacancy health public health update ingo jobs jobs after passing bachelor jobs for bph jobs in nepal jobs in ngo ngo jobs ngo jobs vacancy ngo jobs vacancy for bph ngo job vacancy 2021 nurse jobs nurse jobs 2021 nurse vacancy nursing insurance nursing job nursing jobs nursing jobs 2021 nursing jobs in nepal nursing law nursing officer Nursing Vacancy Public health Public health concern public health important days Public health in Nepal publichealthjobs publichealth jobs public health updated Staff Nurse Staff Nurse and HA Vacancy | Nepal Army 2021 staff nurse vacancy staff nurse vacancy in ngo 2021 nepal staff nurse vacancy kathmandu who guidelines WHO official
Hey there, I am Nirdesh Baral, founder of Nepal Health Magazine. I am a Tech geek by passion , Public health practitioner by profession and an Ailurophile by heart and a patriot by birth