Lumbini Zonal Hospital is situated at the Junction of Mahendra and Sidhdharth highway in Butwal Municipality of Rupandehi District in the western part of Nepal near by is the birth place of Lord Buddha, lumbini. Globally its position is latitude 270 41′ 52″ (N) and longitude 830 27'51" (E) and 865 meter above sea level. It lies at the bottom of Siwalik hill of Palpa & Rupandehi district. This hospital covers all the districts of Lumbini zone including some south west part of Shyanja district of Gandaki zone, southern parts of Parbat and Baglung district of Dhaulagiri zone, whole part of Pyuthan district of Rapti zone and half parts of Rukum Rolpa and Dang district of Rapti zone. The hospital catches about 4 Million (40 Lakhs) population & thirteen districts of western part of Nepal.
Provincial Government, Ministry of Social Development, Directorate of Health, Lumbini Provincial Hospital, Butwal, Nepal Notice to the recruitment of Staffs on contract service: This notice has been published for the application from the interested Nepali citizens who have reached the qualification.
Types of exams: Written and Interview
Required Educational Qualification and Age: Qualification and age determined by the Public Service Commission for the concerned level.
Contract period: By end of Mangsir 2078.
Examination fee: Deposit exam fee Rs. 500 at Krishi Bikas Bank Counter Branch Lumbini Provincial Hospital A/C 0414701425678019 and submit the original deposit voucher.
The last date to submit the application form: 2078-5-27 within office hours.
Exam date: Information will be published on 2078-5-28.
Salary and other benefits: As per prevailing rules
For more information, you can contact the Administration Branch of Lumbini Provincial Hospital or visit this hospital at www.lphospital.gov.np   Contact : 977 – 071-542248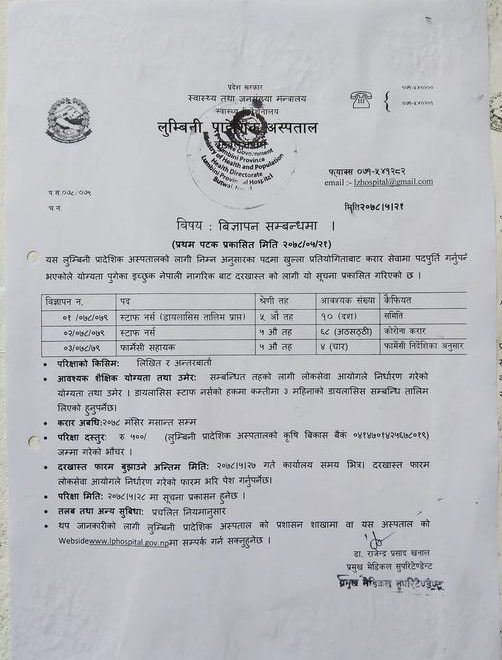 bachelor jobs bph jobs health health for all health guidelines new health jobs healthjobs healthjobs in nepal health jobs vacancy health public health update ingo jobs jobs after passing bachelor jobs for bph jobs in nepal jobs in ngo ngo jobs ngo jobs vacancy ngo jobs vacancy for bph ngo job vacancy 2021 nurse jobs nurse jobs 2021 nurse vacancy nursing insurance nursing job nursing jobs nursing jobs 2021 nursing jobs in nepal nursing law nursing officer Nursing Vacancy Public health Public health concern public health important days Public health in Nepal publichealthjobs publichealth jobs public health updated Staff Nurse Staff Nurse and HA Vacancy | Nepal Army 2021 staff nurse vacancy staff nurse vacancy in ngo 2021 nepal staff nurse vacancy kathmandu who guidelines WHO official
Hey there, I am Nirdesh Baral, founder of Nepal Health Magazine. I am a Tech geek by passion , Public health practitioner by profession and an Ailurophile by heart and a patriot by birth