World Physiotherapy Day 2021 | Know Theme: Each year , 8 September is celebrated as World Physiotherapy Day 2021. As a science of Physiotherapy states treatment to restore, maintain, and make the most of a patient's mobility, function, and well-being. Physiotherapy helps through physical rehabilitation, injury prevention, and health and fitness. World PT Day is observed to generate awareness about the crucial contribution physiotherapists make to society, enabling people to be mobile, well, and independent. This is observed on 8 September. The day marks the unity and solidarity of the global physiotherapy community. It is an opportunity to recognize the work that physiotherapists do for their patients and community. Using World PT Day as a focus, World Physiotherapy Day aims to support member organizations in their efforts to promote the profession and advance their expertise.
What is Physiotherapy ?
Physical therapy (PT), also known as physiotherapy, is one of the allied health professions. Physical therapy is provided by physical therapists who promote, maintain, or restore health through physical examination, diagnosis, prognosis, patient education, physical intervention, rehabilitation, disease prevention and health promotion. Physical therapists are known as physiotherapists in many countries. In addition to clinical practice, other aspects of physical therapist practice include research, education, consultation, and health administration. Physical therapy is provided as a primary care treatment or alongside, or in conjunction with, other medical services. In some jurisdictions, such as the United Kingdom, physical therapists have the authority to prescribe medication.
Physiotherapists have different titles in different countries: in many countries they are called physical therapists. Some countries have their own version of the word physiotherapist, such as kinesiologist, but they are all part of the same profession.
Physiotherapists provide services that develop, maintain and restore people's maximum movement and functional ability. They can help people at any stage of life, when movement and function are threatened by ageing, injury, diseases, disorders, conditions or environmental factors. Physiotherapists help people maximise their quality of life, looking at physical, psychological, emotional and social wellbeing. They work in the health spheres of promotion, prevention, treatment/intervention, and rehabilitation.
Physiotherapists are qualified and professionally required to:
undertake a comprehensive examination/assessment of the patient/client or needs of a client group
evaluate the findings from the examination/assessment to make clinical judgments regarding patients/clients
formulate a diagnosis, prognosis and plan
provide consultation within their expertise and determine when patients/clients need to be referred to another healthcare professional
implement a physiotherapist intervention/treatment programme
determine the outcomes of any interventions/treatments
make recommendations for self-management
Theme for World Physiotherapy Day 2021 | Know Theme
This year , World Physiotherapy Day is celebrated with the theme of Long COVID and rehabilitation. The day marks the unity and solidarity of the global physiotherapy community. It is an opportunity to recognize the work that physiotherapists do for their patients and community. Safe and effective rehabilitation is a fundamental part of recovery. Rehabilitation for Long COVID must be tailored to the individual, depending on their symptoms, goals and preferences that can be well managed by Physiotherapist . Physiotherapist aim to to optimize functioning in everyday activities, support individuals to recover or adjust, achieve their full potential, and enable participation in education, work, recreation and meaningful life roles.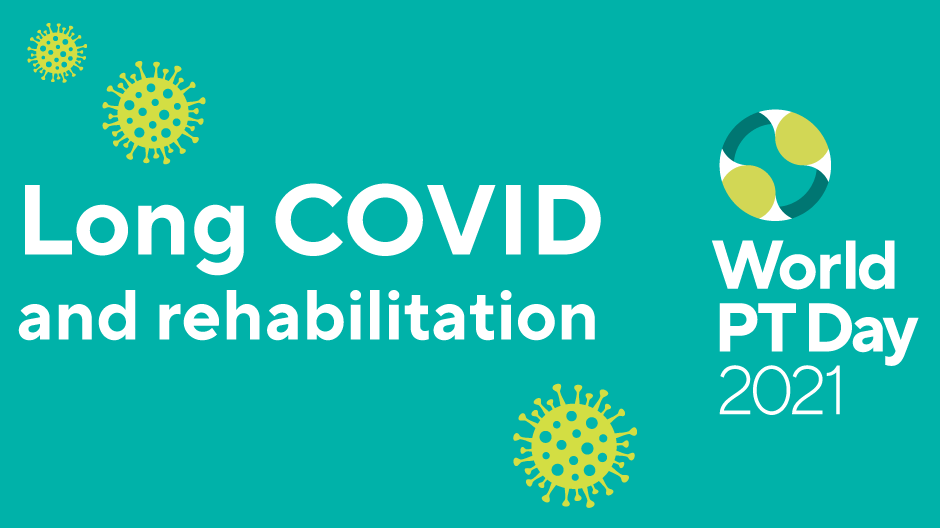 World Physiotherapy response to COVID-19 ?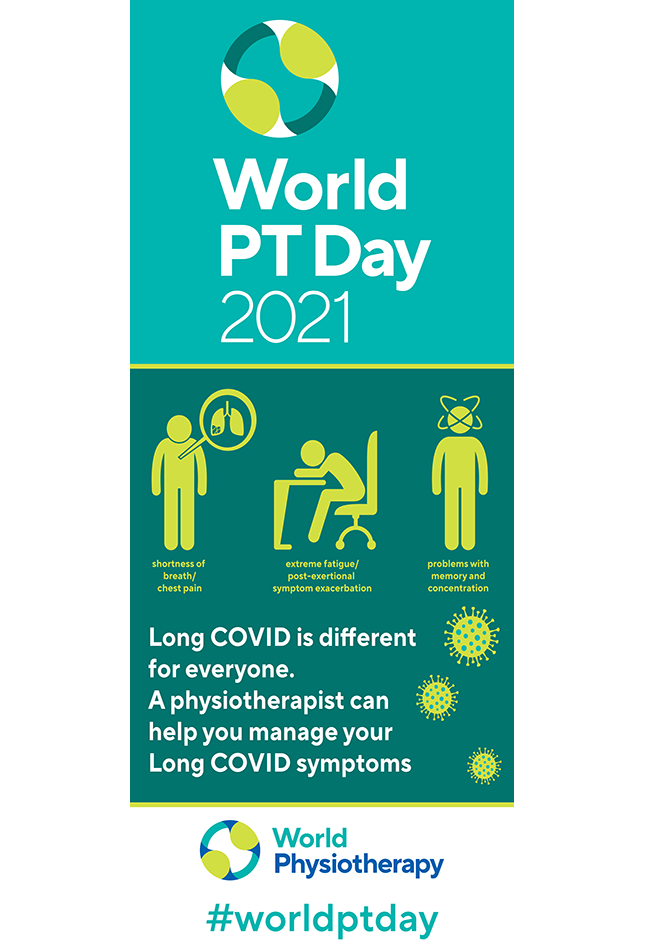 Safe and effective rehabilitation is a fundamental part of recovery from illness and can improve function in people living with disability. Currently insufficient evidence exists to guide best practice for safe and effective rehabilitation in people living with Long COVID. Comparisons have been drawn between the symptoms and experiences of people living with Long COVID and other infection outbreaks such as severe acute respiratory syndrome (SARS), Middle East respiratory syndrome (MERS), Chikungunya and Ebola, 1-7 albeit now on an unprecedented scale. Selected symptoms also overlap with Myalgic Encephalomyelitis/Chronic Fatigue Syndrome (ME/CFS), which is often triggered by infection and immune activation. 8,9 In the absence of evidence for best practice in Long COVID rehabilitation, the heterogeneity of symptom presentation and clinical course in people living with Long COVID, and the lessons learned in people living with ME/CFS, caution may be required when recommending all forms of physical activity. In particular it is currently unknown when and by what amount physical activity (including exercise or sport) is safe or beneficial, so that it does not impair functioning among adults, young people and children living with Long COVID.
Physical activity of all forms might benefit some people living with Long COVID, but could be contraindicated or exacerbate symptoms in others. Using a cautious approach to physical activity will likely support longer-term recovery.
• Physical activity, including exercise, prescription in Long COVID should only be approached with caution and vigilance, ensuring rehabilitation programmes are restorative and do not make an individual's symptoms worse both during and in the days following.
• Autonomic dysfunction, presenting as breathlessness, palpitations, fatigue, chest pain, feeling faint (presyncope) or syncope, could contribute to the exercise intolerance observed in people with Long COVID.
• Due to the risk of worsening symptoms with overexertion in Long COVID, it is critical that physical activity, including exercise, interventions are applied with caution and careful clinical decision making based on symptoms during and in the days following exertion
Physiotherapy support for Long COVID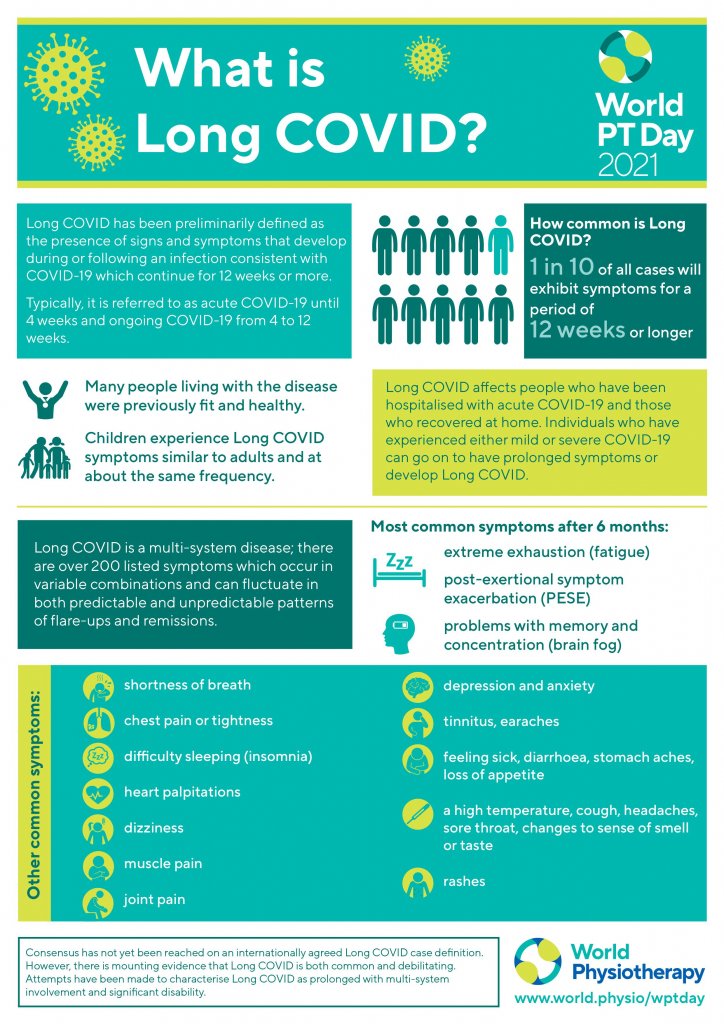 bachelor jobs bph jobs covid19 health health for all health guidelines new health jobs healthjobs in nepal health jobs vacancy health public health update ingo jobs jobs after passing bachelor jobs for bph jobs in nepal jobs in ngo ngo jobs ngo jobs vacancy ngo job vacancy 2021 nurse jobs nurse jobs 2021 nurse vacancy nursing career nursing insurance nursing job nursing jobs nursing jobs 2021 nursing jobs in nepal nursing law nursing officer nursing vacancy Public health Public health concern public health important days Public health in Nepal publichealthjobs publichealth jobs public health updated Staff Nurse Staff Nurse and HA Vacancy | Nepal Army 2021 staff nurse vacancy staff nurse vacancy in ngo 2021 nepal staff nurse vacancy kathmandu who guidelines WHO official
Hey there, I am Nirdesh Baral, founder of Nepal Health Magazine. I am a Tech geek by passion , Public health practitioner by profession and an Ailurophile by heart and a patriot by birth