Grande City Hospital (P) Ltd is a 24 beds world class health care facility at Jyoti Bhawan, Kantipath -right in the heart of the Kathmandu city. Initially established as Grande City Clinic & Diagnostic Service in 2013, the hospital provides quality health care with state-of-the-art and latest technologies combined with the expertise of highly qualified and trained doctors and professionals .The main purpose of the hospital is to provide world-class healthcare facilities in a compassionate environment with optimum utilization of modern technologies.
The pioneering services we provide through state-of-the- art technology and an expert team of qualified professionals, are only complemented by the compassionate care and individual attention with which we treat every patient who seeks our services.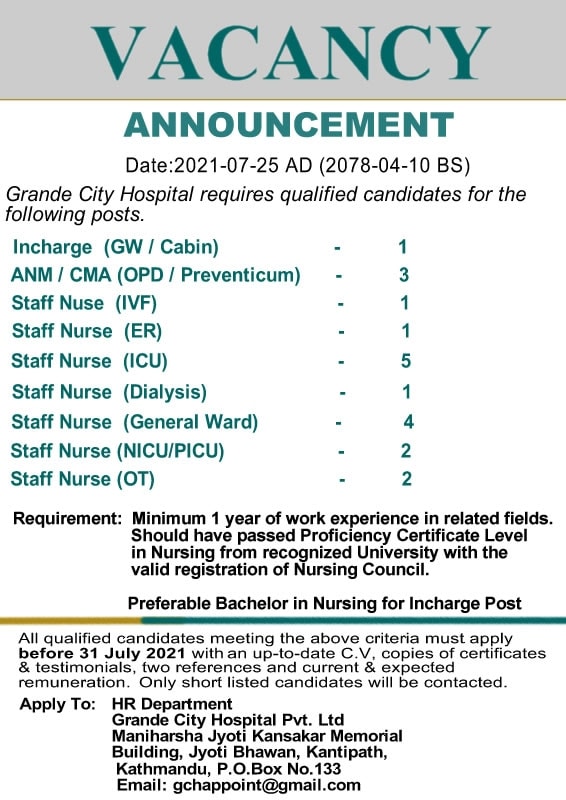 Apply Procedure
All qualified candidates meeting the above criteria must apply before 31 July 2021 with an up-to-date CV , copies of certificates and testimonals , two references and current and expected salaries . Only short-listed candidates will be contacted.
For any queries , Contact
Jyoti Bhawan, Kantipath, Kathmandu
01-4163500 , 01-4163700,9851237496,(9851237493 for health package)
bachelor jobs bph jobs covid19 health health for all health guidelines new health jobs healthjobs in nepal health jobs vacancy health public health update ingo jobs jobs after passing bachelor jobs for bph jobs in nepal jobs in ngo ngo jobs ngo jobs vacancy ngo job vacancy 2021 nurse jobs nurse jobs 2021 nurse vacancy nursing career nursing insurance nursing job nursing jobs nursing jobs 2021 nursing jobs in nepal nursing law nursing officer nursing vacancy Public health Public health concern public health important days Public health in Nepal publichealthjobs publichealth jobs public health updated Staff Nurse Staff Nurse and HA Vacancy | Nepal Army 2021 staff nurse vacancy staff nurse vacancy in ngo 2021 nepal staff nurse vacancy kathmandu who guidelines WHO official
Hey there, I am Nirdesh Baral, founder of Nepal Health Magazine. I am a Tech geek by passion , Public health practitioner by profession and an Ailurophile by heart and a patriot by birth